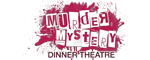 Murder Mystery Dinner Theater
in Myrtle Beach, SC
House of Blues Myrtle Beach
•
4640 Hwy. 17 South
•
North Myrtle Beach
,
SC
29582
About Murder Mystery Dinner Theater
An interactive comedy "Who dunnit" dinner show. A murder happens during the course of your meal and you are held in the middle of a murder investigation. Everyone is a suspect. Figure out who the killer is and you may be rewarded! (This event is recommended for ages 13 and up/or parents discretion. It is rated like a PG-13 show).
The menu is subject to change but currently consists of:
Blues Brother Salad (Seasonal Greens with sliced tomatoes and Julian carrots with House made Balsamic vinaigrette or Ranch dressing)
Citrus Marinated Chicken Breast
Rice Pilaf
Vegetables of the season
Bourbon Bread pudding
*For a vegetarian option, please make the request at the time of the reservation.
Murder Mystery Dinner Theater News
Murder Mystery Dinner Theater Frequently Asked Questions
Can I bring my children to the Murder Mystery Dinner Theater?
No children under the age of 13 will be admitted to the show and dinner due to the nature of the content performed throughout the night.

I am a vegetarian. Are there meal options for me?
Yes. Vegetarian dinners are available. Please make this request when reserving your tickets.

Where are the shows held?
The Murder Mystery Dinner Theater hosts performances at the House of Blues in Myrtle Beach.


Select a Date and Time to Continue:
We're sorry. This product is unavailable for your date range.
Recommended by:

Working with Reserve Myrtle Beach has been great for our business. The customer service they provide is outstanding.

Dawn Temples
Marketing and Promotions Manager
House of Blues Myrtle Beach